Ciao!
Ducati 1-2!!
Checa before Guintoli. Both of them with privateer Ducatis. Impressive!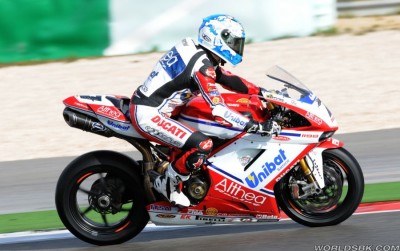 Third fastest was J.Rea on Castrol Honda, but he also crashed late in the afternoon and at the moment it seems like he has dislocated finger and a possible wrist injury. If the worst case scenario will be written on the wall, he will be missing the first WSBK race this coming weekend.
Fourth quickest overall is another Ducati, J.Smrz.
First Kawasaki took 5th place with rider Lascorz.
Aprilia and Biaggi grabbed 6th place almost 1,3 seconds slower than Checa. But I will remind you that all of the Aprilia boys made few laps due to damp weather conditions.
Suzuki with Fabrizio grabbed the 7th spot in the timesheets.
The newcomer and ex MotoGp rider Melandri took 8th place and was the best Yamaha rider.
Leon Haslam last years runner up, was best BMW rider in 14th place.
This is just a last minute test and it is not telling us the truth about the preparations during this winter. I am sure things will be different on Saturday evening after Superpole. Biaggi will be in the first row, Checa also, then Haslam and Corser both in the BMW factoryteam. So my predictions is that the first row will be held by 3 factorybikes and one privateer.
Remember last years races from Phillip Island. In both of the heats it was a big fight for the victory, between three and four riders. Haslam won the first heat finally and Checa the second. The Aprilia boys had not made their homework properly and were a bit off the podium and that will not happend again this year.
In the WSS my interest is lying for the friends from Scandinavia, Robin Harms and Alexander Lundh. Robin was 9th overall and Alexander 21.st after two days of testing.
Heja Danmark och kom igen nu Alexander!!
/ Christer